UK's best selling tractors 2022 revealed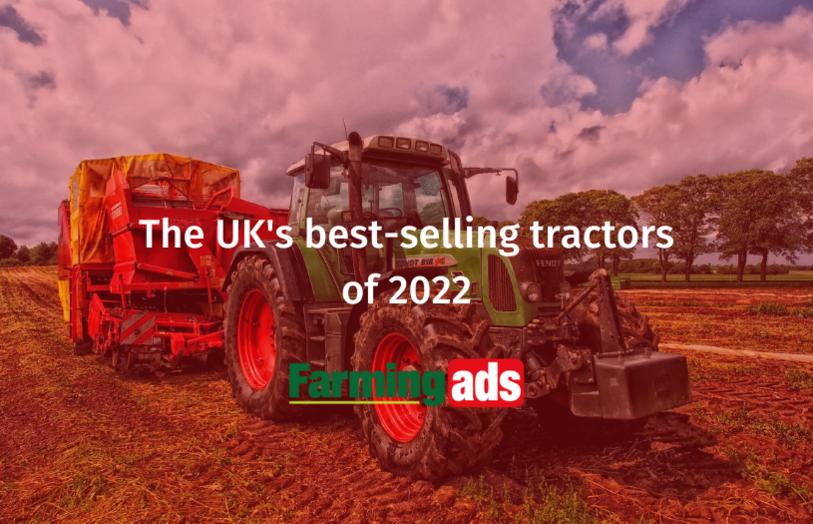 The UK's most popular tractor manufacturer John Deere again tops the UK tractor charts, out-doing its rival brands in the UK for 2022. But its grip on the UK market is loosening, according to the most recent data released by FarmingAds.
John Deere, who have held the top spot in the UK for more than two decades has seen its domination slowly wane over the last few years, but is still the big player in the UK agricultural sector and this is also evident on FarmingAds, where they hold a 26% demand share for tractors so far in 2022. They are followed closely by New Holland with 18%. Massey Ferguson completes the top 3 of most preferred tractor brands, with 12% demand share. A full break-down can be seen on the graph below.
Overall, during the first few months of 2022, the amount of enquiries for tractors for sale listed on FarmingAds has increased compared to the same period last year - a good sign for the industry.
Top 10 most searched tractor brands on FarmingAds.co.uk
The 2022 tractor of the year awards as decided by 'Tractor of the year' can be seen below:-
Tractor of the year 2022 - John Deere 7R 350 AutoPowr
The John Deere 7R 350 AutoPowr wins in the open field category - it is a powerful, innovative farming tool that has quickly become a favorite of farmers everywhere. Featuring state-of-the-art technology and ultra-efficient performance capabilities, it offers unmatched reliability and control at every stage of the crop cycle. With its advanced electronics and expertly calibrated hydraulics, the John Deere 7R 350 AutoPowr is able to optimize planting, harvesting, and seeding speeds to ensure optimal productivity without bogging down or straining under heavy loads. Whether working in dry, sandy soils or wet, heavy clay ones, this groundbreaking piece of equipment enables farmers to achieve their goals with greater ease and efficiency than ever before. So if you're looking for a tool that can take your operation to the next level, look no further than the John Deere 7R 350 AutoPowr. Its top-notch performance and intuitive user interface will help you get more done in less time than ever before.
Best Utility Tractor - John Deere 6120M AutoPowr
The John Deere 6120M AutoPowr is a powerful and innovative tractor that has revolutionized the agricultural industry. This advanced machine boasts an assortment of cutting-edge features, including a high-speed hydrostatic transmission with electronically controlled end stops, independent differential locks, multifunctional joystick and an advanced suspension system. Thanks to its highly efficient design, the John Deere 6120M AutoPowr is capable of delivering maximum performance and power in even the toughest working conditions. Whether you're cultivating row crops or harvesting seasonal crops, this top-of-the-line tractor is guaranteed to help you get the job done efficiently and effectively. So if you're looking for a powerful, reliable agricultural machine that can handle any task with ease, look no further than the John Deere 6120M AutoPowr.
Best of Specialized tractors - Reform Metrac H75 Pro
The Reform Metrac H75 Pro is an advanced agricultural tool designed to help farmers improve their crop yields and manage their land more efficiently. This machine combines a number of innovative features, including deep tillage capacity and integrated GPS navigation, to give farmers the ability to optimize every aspect of their crop growth process. The deep tillage capacity makes it possible for the Reform Metrac H75 Pro to loosen or break up large amounts of soil with minimal effort, allowing seedlings to take root in rich, nutrient-rich soil. Additionally, the integrated GPS navigation allows users to precisely target productive fields and avoid areas prone to erosion or flooding. Overall, the Reform Metrac H75 Pro is a powerful and versatile tool that can help farmers nurture optimal crop yields year after year.
Sustainable Toty - New Holland T6.180 Methane Power
The New Holland T6.180 Methane Power is a powerful new tractor that revolutionizes the farming industry. Built with advanced technology and innovative design features, this machine is the perfect choice for farmers looking to improve their performance and efficiency on the field. With its ability to run on methane gas, a renewable energy source, the New Holland T6.180 Methane Power reduces carbon emissions and improves sustainability in the agricultural sector. And thanks to its high-output engine and versatile handling capabilities, this tractor also makes it easier than ever for farmers to focus on optimal productivity and hassle-free operation no matter what tasks they need to tackle. So if you're ready to embrace the future of farming, look no further than the New Holland T6.180 Methane Power tractor!