How to determine a pheasant's gender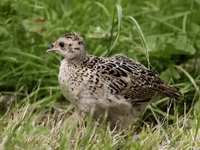 Pheasants are beautiful creatures, and the species can vary in both colour and appearance, from the exotic plumage of the ornamental pheasant to the more muted colours of the wild pheasant. With so much variety in the breed, it can sometimes be hard to make a gender prediction when analysing a pheasant. This guide will show you how to determine the sex of a pheasant.

Determining the gender of a pheasant
The easiest way to establish the gender of the animal is to analyse pheasant feathers. Study the plumage around the pheasant's chest and barrel area. In most cases, a female will have a spotted brown, dusty grey colouring. For males, colouring is usually a little lighter, with shades ranging from golden brown to copper. As a rule of thumb, these distinctive markings should give you confidence in determining gender.

While the above marks can be conclusive, if you are struggling to differentiate the genders of a group of pheasant chicks, there are other colourings that can help you establish sex. The head area can vary in colour between males and females. In males, the head tends to be white, green or purple, while females will generally have universal colouring for both the body and head. Males also have striking red eyes that give away the gender quickly. If you are looking at pheasants for sale at livestock shows, then you'll need to bear these differences in mind.

Analysing size is another method of considering gender, especially in fully-grown pheasants. Males are noticeably taller than females, sometimes exhibiting a six inch height advantage. Tail plumage will also be longer and thicker.

Finally, study the traits of the pheasant. A male pheasant will show more curiosity, wandering further from the safety of a nest. Females are incredibly maternal, staying closer to the nest and keeping pheasant chicks within their immediate vicinity.


Articles