Pig vaccination advice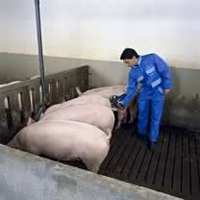 For anybody looking to initiate themselves with pig farming, the vaccination process needs to be at the top of your priorities when planning. Pigs are hardy creatures, but at times they can be vulnerable to ailments such as swine fever.
It is vitally important that you get their vaccination process spot on. So, we have put together a nice and concise guide to pig vaccinations.
Pig vaccinations - A guide
Before you consider the vaccination process, take a step back and analyse the reason for your interest in rearing pigs. If it's for commercial purposes, you will have to be very careful with planning vaccinations, as pigs intended for market will need to be safe from various harmful diseases. However, if you are keeping them solely as pets, vaccinations will only need to be administered as and when the pig requires them.
A swine vaccine will be required if your local area is particularly vulnerable to certain diseases. Converse with pig farmers and vets in your local area about the precautions they take to protect their animals from ailments such as swine fever. This will give you a better understanding of the importance of booking regular vaccination schedules. Be prepared for the prospects of rapid outbreaks of diseases, as failing to safeguard your pigs from a sudden outbreak quickly could have disastrous consequences.
Although the vaccination process is a wonderful means of keeping your pigs as safe as possible from the threat of disease, at certain times it can be risky to vaccinate a pig. For instance, a swine vaccine can be harmful for a pregnant pig. Therefore, the vaccination schedule and the breeding season need to be carefully monitored to ensure the resulting litter remain as healthy as possible after birth.
As a pig matures, it will need to have the appropriate vaccinations administered at appropriate moments during its lifetime. Piglets will need certain types of vaccination to aid the path to adulthood, whilst ageing pigs may need regular injections as they become more vulnerable to the stresses and strains of old age.
Finally, stay vigilant and aware of the possibility of disease outbreak at all times. All good pig farmers should regularly scrutinise the health of pigs on a day-to-day basis.
Articles