How to use a mini tractor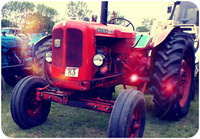 When you think farming, what is the first thing that comes to mind? Surely it has to be tractors. These versatile pieces of machinery revolutionised farming and most farmers would be lost without one. Well, mini tractors can be pretty darn handy too.
They are cracking for smaller farms and, can also be used to access places where a larger tractor wouldn't be able to fit. Mini tractors can also be used as a back-up to your main tractor, carrying out smaller light tasks around the farm. They are great for moving loads and using other pieces of farm equipment, including grain or seed spreaders.
The process of driving a mini tractor is quite similar to driving a large style tractor, in most cases it is actually simpler because they do not feature the complicated computer control systems that are featured on modern tractors. Here are some pieces of information that could come in handy to you when it comes to using a mini tractor. Read them closely and you should be ok.
The controls
The controls on mini tractors will vary from model to model but the basics are often the same, in fact they are quite similar to driving a car. Most mini tractors will have a manual gearbox and unlike larger tractors, often only have one gearbox.
A lot of mini tractors, like regular tractors will have a hand operated throttle as well as a foot pedal. This makes jobs where you need to maintain a constant speed (such as hedge cutting and seed spreading) much easier.
Familiarise yourself with where the brake and clutch pedal is, some mini tractors have a feature where the brake and the clutch can be pressed at the same time. Start the engine with the clutch depressed and engage the gear you want to use.
One some tractors, first gear isn't worth using and you should go straight to second. Get the throttle position to where you want it and slowly lift up the clutch to move forward making sure that the brake is not on as some mini tractors have a brake that can be kept depressed by a catch.
To drive a mini tractor, do all the usual safety checks such as making sure there is petrol, oil and water in it and checking that things such as the PTO and the trailer hitch is working correctly.
When driving a mini tractor, always check (as you would with a regular tractor) that you can make it certain gaps and that there aren't any low branches or hidden tree stumps that may cause damage.
A lot of mini tractors will not have a cab on them so be award of any low branches that can hit you in the face, the bonus of this however is that when driving a mini tractor, you're head is the highest point and you can correctly judge whether you can fit under certain gaps.
The chances are when you are using a mini tractor that you will want to use certain equipment such as a mowing or hedge cutting attachment. To do this you will need to use the PTO. When attaching equipment, make sure that all the retaining pins and the ball hitch is fastened correctly to avoid any expensive and dangerous accidents.
The PTO controls will be featured near the driving seat, some mini tractors have this on the floor between the drivers legs whilst others have it to one side of the drivers seat. The PTO is driven directly from the engine so if the PTO is engaged, it will start as soon as the clutch is engaged and the tractor starts moving
.
Mini tractors: Spare parts to consider
Mini Tractors can be incredibly useful for carrying out small but necessary tasks around the farm. However, as with any type of machinery, occasionally certain parts of the tractor may need replacing to ensure this useful machine keeps functioning effectively.
Inevitably, it's when the smaller parts begin to break down that a mini tractor may begin to show signs of struggle. Parts that need to be monitored, and replaced when necessary, include dipsticks, pistons, bearings, crankshafts, bearings, thermostats, rockers, manifolds, chains and gaskets.
Exterior accessories may also need replacing from time to time. Keep a close eye on the condition of the wheels and tyres of the mini tractor, and check for any problems with the control set or the seats – this is important for your own safety while using the machine.
Articles