How to use a hedge trimmer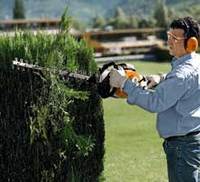 Everything grows quicker in the summer and things such as hedges need to be cut back quite often, especially if you don't have any animals to eat the foliage. There are a few variations of hedge trimmer but they can generally split into two types, electric and petrol.
Petrol hedge trimmers are more expensive and more powerful and better suited to heavy duty cutting. Whereas, electric trimmers are cheaper and are often used in smaller domestic gardens. This guide outlines how to cut a hedge with both electric and petrol hedge trimmer.
Using a hedge trimmer
If you are using an electric hedge trimmer, you will need an extension lead long enough to allow you freedom of movement. Use a circuit breaker to make sure that you won't get electrocuted if you accidentally cut through the cable.




Petrol hedge trimmers run on two-stroke petrol which will need to be mixed up. Buy some two-stroke oil and a mixing bottle. The correct ratio is 25 parts petrol to one part oil. It is important to get this roughly correct as too little oil will make the engine run hotter and potentially seize up which will result in an expensive repair bill. Too much oil will make it very smoky and could clog the engine.




To start a petrol hedge trimmer, turn on the choke and make sure the ignition is on. Pull the pull-chord a few times to see if the engine starts, it may turn over then stall again. Repeat this, but this time, hold the throttle open a bit. Once it has started, turn the choke off and run on full throttle for a few seconds to warm the engine.




When cutting the sides of a hedge, run the hedge trimmer at full throttle and move from the bottom upwards. Hold the back of the blades parallel to the sides of the hedge to prevent you from taking chunks out of it. Go over the same bits twice to cut any missed twigs and leaves.




Depending on the size of the hedge, you may need a ladder to cut the top. You can cut it into a square topped hedge, or you can make it circular. When you are up a ladder, especially using a petrol hedge trimmer, make sure the ladder is sturdy so that you don't fall off and cause a serious injury.




Be careful of any cables, hidden wires or bits of fencing that may be inside a hedge, this can cause some serious damage to the teeth of a hedge trimmer. Or can lead to you suffering an injury.
Articles