How to show a goat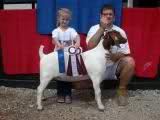 Showing a goat is a fantastic way to evaluate how good your stock is. Preparing to show a goat will take time, but if you train hard with a positive attitude then you should go far when goat showing. Anyone can show a goat so here is an article that will help you prepare for a show if you fancy the challenge.
Showing a goat – top tips
Firstly, you will want to locate a suitable goat show in your area. Once you have found one, you should then contact the chairperson and request a show booklet. Whilst speaking to the chairperson, don't forget to ask all of the relevant questions referring to breed requirements and registration dates.




It is also worth making sure that you are properly organised and have completed all of the relevant paperwork weeks before the show. You won't want to arrive and have missed out a section of the form, meaning you aren't able to enter.




Also, before you enter your goat, you should read over all of the show's rules and regulations to ensure that you are eligible for entry.




Start training your goat to lead at least 6 weeks before the show. You can do this by putting a collar around your goat's neck. Lift the collar up under the goat's jaw and ask it firmly to walk forward, keep repeating this exercise and your goat will quickly learn to lead.




Your goat will need to learn to square up which means standing tall, head held high, and front and back legs in line with shoulders and hips.




Every time you practice leading your goat you should feel the udders and lift up her back legs and ask her to square up.




Goats are not judged on showmanship but it will help your goat to stand out from the crowd




You will need to body clip your goat three weeks before the show. The trace lines will disappear in this time and you will have time to check over any bits you might have missed.




Touch up around your goats head and face with the clippers two or three days before the show.




Trim the goat's hooves a week before the goat showing.




You should have your own outfit that is neat and tidy for the show ring.




Give your goat a bath the night before the show. You should clean underneath her tail with some baby wipes and wipe over the hooves before the show.




Replace the goat's regular collar with a chain link collar when you show a goat. And, when you enter the ring, you should make sure that your goat is between you and the judges.
There you have it, all of our advice on showing a goat. Make sure you follow these instructions closely and put in the required amount of time training your goat to behave and walk with you.
Articles