How to protect chickens from predators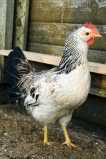 Predators such as foxes, cats, hawks and other birds of prey, place chickens quite high on the menu. The chances of a predator finding a chicken are also higher because they are often confined in the same location.
Protecting chickens from such predators is a high priority because once a predator gets into a chicken coop, especially a fox; they often kill all of the chickens. This guide will give you some advice on how to make a chicken coop more secure so you can better protect a chicken.
Protecting chickens from predators – A guide
Chickens need somewhere inside to roost. Put a roosting shed inside the chicken coop or attach the coop to a barn where they can roost. Ideally, the roosting area needs to be about 4 feet above ground.




An old caravan can serve as a very secure roosting area that can be easily shut at night. Any roost needs to have 'branches' or surfaces for the chickens to use.



The outside area of a chicken coop needs to be secure as well. Build a wooden frame and attach chicken around the outside to protect a chicken from a predator. Make sure the roof is secure to protect from birds of prey. If you are worried, you could use extra thick chicken wire.


Use gravel boards and secure them along the bottom of the chicken coop to help deter any predators from digging or pushing their way underneath. If you want to be doubly sure when protecting chickens, you can bury the edge of the frame under the ground and place cement breeze blocks around the edge.




You will need an access point to the chicken coop. a simple hinged gate will work fine for larger chicken coops and can still be made secure by placing breeze blocks at the bottom.
Tips & advice
Do not let dogs run at the chickens in an attempt to play with them. It may mean the chickens become used to dogs and not see them as threats.




When protecting chickens, consider placing the chicken coop somewhere near your house. This way, should a predator get in; you will be able to hear the commotion and will be quicker on the scene to do something about it.
Articles