How to milk a cow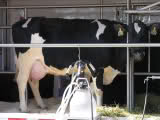 People have been milking cows for thousands of years, This milk has been used for drinking and has also been turned into cheese, butter and cream etc. There are two ways to milk a cow, one of them is the old fashioned way, by hand, and the other is much more common now in larger dairy farms and it involves using a machine. This guide will outline the process of milking a cow both by machine and by hand.
Milking a cow by hand
Cows are animals of routine so doing things at the same time everyday and sitting on the same side will make the process of milking a cow much easier.




Begin milking a cow by securing the cow somehow, you can use a halter to tie it up or place it in a stanchion. If your cow is used to being milked then this isn't always necessary. If you are unsure then you can always check with the cow's previous owner.




Sit to one side of the cow with your head resting against her flank. Begin by cleaning the udder before you start milking with a clean cloth and warm water - this will ensure that any germs cannot be passed on. It also serves to stimulate the cow to release the milk.




When you milk a cow, it is best to take a teat in each hand. Begin by wrapping your thumb and forefinger around the teat and squeezing. This will trap the milk. Next, squeeze your middle finger around, then your ring finger and finally your little finger, pushing the milk out into the pail below. Loosen your grip to allow the teat to refill. Do the same with the other hand while the previous teat refills.




Repeat step 3 until no more milk is available. Move onto the other two teats using the same process. When you milk a cow, the first squeeze of each teat should be pointed away from the pail to avoid any bacteria getting in.




Clean the teats and udder to avoid the build up of any bacteria.
Milking a cow using a machine
This is a much more modern way of milking a cow and is much quicker when done on a large scale. When you are milking a cow this way, you should always prepare the animal in the same way you would if you were milking it by hand.




Put the cow somewhere secure so that they cannot remove the machine. This can be done as above, either by tying her with a halter or putting her in a stanchion.




Clean the teats in the same way as above to remove any bacteria and to stimulate the milk production.




Allow the milking machine to build up some pressure after it's been turned on before you begin cow milking. Carry out step 3 above a couple of times on each teat to get the milk flowing. Then apply the suction cups to the teats to begin the milking process. You have to be quite quick with this so that the machine doesn't lose pressure.




Keep the suction cups on until there is no more milk flowing. Remove them, empty the milk and clean the teats, the udder and the machine fully.
Other tips and advice
When milking a cow, always keep safety in mind. If you are milking a cow by hand, sit in a way that you can move away quickly should the cow become agitated.




Sometimes, you may only be able to milk a cow if it is distracted. Use grain to keep it preoccupied, if the grain runs out it may become fidgety and agitated which is not what you want.




Cows can kick very hard, make sure you stay to the side of a cow and make all movements slow and deliberate to ensure that the cow doesn't get spooked.




When you milk a cow, it can get irritated by the friction of your hands on its udders. You can solve this by putting a little Vaseline on your hands.
Articles