How to humanely kill a chicken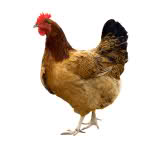 If you are rearing animals in order to eat them or sell their meat, then you will have to remember that you may be required to carry out the killing process yourself. You will want to ensure that you are capable and comfortable with this.
Killing a chicken is not technically a difficult process but you may need a strong stomach in order to be able to carry it out. It is important that you do not hurt the chicken so making sure that you kill it humanely is vital.
Here is our guide to help you through what some people can find a tricky process. Follow these instructions closely and the chicken will suffer a painless death.
Killing a chicken humanely
You will need to prepare an area where you can slaughter a chicken. You will probably need a bucket and a sharp knife on hand. If you want to cut the chicken's head off then you will need a chopping block and some towels.
The next part is more difficult; you have to catch the chicken you want to kill. To kill a chicken you will need to surprise them in the coop, be fast and grab a chicken by the legs and sweep it quickly into the air.
You will notice that the chicken begins to struggle but hold it by the legs firmly and the chicken will eventually calm down.
Decide how you are going to go about killing a chicken. You can choose between decapitation and wringing its neck.
To wring the chicken's neck you will need quite a lot of guts. Hold the chicken by its feet and grip the bird's neck. You will need to bend the neck down and then sharply upwards until you hear it snap. You cannot be nervous and must make the movement in a strong fluid motion without hesitating.
Do not be alarmed when the chicken's wings start to flap, this is caused by the chickens nerves and is a reflex action. You may need to let the chicken run about in an enclosed space until it dies.
Use the sharp knife to cut the chicken's jugular. You shouldn't cut all the way through the neck; leave the back of the neck attached.
Hang the chicken's neck over a bucket and let the blood drain.
Articles