How to feed goats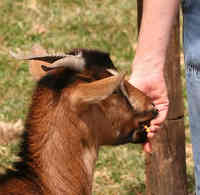 Caring for goats can be a fun and rewarding pastime. They are great animals and can provide you with plenty of milk which can be made into tasty cheese. One part of looking after your goats is to ensure that they are being fed the right food, in the right quantities.
Adult goats will require specific goat feed, while a kid goat will need milk from its mother or from you if this is not an option. This is a guide for the correct way for feeding a goat, and what they require in their goat feed.
Goat feed for adults
You should be aiming to keep all of your goats in a good condition, making sure that they are never too fat or thin, throughout the year.




Goat feed should supplement the grass or hay that your goats already have available to them, therefore choose a type of feed that best fits this bill and what your goat herd will thrive on.




Feeding a goat a 14-16% protein grain mix will be most suitable. But you must ensure that, as with all feed, the food is hygienically presented to the herd, a good understanding of goat behaviour. This will ensure that each animal gets its share of the food.




Goats should always have access to hay or grass. If their pen is relatively small in size, you will most likely have to provide them with hay. Keep this off the ground in a feeder or hayrack to ensure that it doesn't get soiled.




Providing a mineral or salt block alongside their feed is very good for the health of a goat.




Generally, goat feeding should occur twice a day. Females are milked twice a day so their feeding schedule should fit in with this. If you change the diet of your goats, it must be made gradually as opposed to a simple switch of feed. This allows for the population of bacteria within the goat to adjust to the change over time.




It is also worth ensuring that the food is stored properly before feeding. This will protect it from damp and contamination as well as any vermin that may be in the vicinity.
Bottle feeding a goat
Occasionally, for various reasons, a kid goat will not be able to feed from its mother. On some farms, this is to reduce the risk of passing a specific (arthritis causing) virus from mother to kid. If this is the case you will have to step in and begin bottle feeding the goat.




When bottle feeding a goat, it is best to use goats milk for obvious reasons but if that is not possible, cows milk is a good substitute (although higher in fat).




A Coca-cola bottle is a good size to use when bottle feeding a goat. Fill the bottles with the milk and attach feeding nipples to the top.




Hold the bottle at the same sort of height that the kid would suckle from its mother. The kid will stop suckling roughly every 20 seconds to allow the suction in the bottle to equalise.




Once you have finished bottle feeding the goat, wipe away and of the excess milk from around their mouths. This prevents them from licking any sour milk later on.




Once you have finished goat feeding, ensure that they have somewhere that is warm and free of draughts so they can digest their meal.




You should feed a goat of this age two to three times a day.
Articles