How to feed cows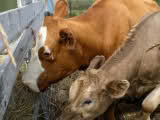 Using proper cow feed on your herd will produce excellent results. It is one of the best ways to ensure that they are healthy and consequently produce better, healthier offspring, more milk and will produce better meat.
This guide will outline what cows eat and the best way to plan your feeding regime. What cows eat depends on what time of year it is. Summer and winter cow feed is different.
Feeding cows in the winter
When feeding cows in the winter, they will need to be supplied with more cow feed as the pasture is not as rich and doesn't grow back. This can be replaced either with roughage or hay.




If the winter gets particularly harsh. The grain mix should contain at least 15% protein so to ensure the continued good health of the cow.




A salt or mineral mix should also be made available in the winter. The exact requirements of hay and mineral mix will vary depending in your area. Cow feed suppliers should be able to tell you the correct amount.




Just as in summer, water is vital. They should have a sizeable water tank or a pond from which they can drink. In the winter it can freeze over so you need to break the ice daily.
Feeding cows in the summer
Generally, in the summer you won't have to provide as much feed as the cows will have the pasture in which they can feed.




What cows eat changes in the summer, but the change between winter and summer cow feed should be a gradual one. For instance, in the spring the grass is mainly made up of water and therefore has little nutritional value to the cow. Cow feed and should still be used to supplement this during the changeover.




Salt and mineral supplements will still need to be supplied as will lots of fresh water. Try to make sure that there are different types of grass in the pasture so that the herd will get the correct variation of nutrients.
Articles