How to care for pygmy goats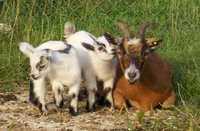 Perhaps the latest must-have animal for the farmyard, the adorable nature and appearance of pygmy goats goes someway to explaining why this breed is raising plenty of attention at livestock shows across the country. However, keeping pygmy goats healthy requires lots of dedication, so it's important to consider the hard work you need to put in before you even think of buying one of these wonderful animals.
Caring for pygmy goats: What to keep in mind
Despite their diminutive size, pygmy goats need plenty of room to roam. Don't be fooled into thinking that pygmy goats can be housed in a confined space; they need as much physical activity and space to exercise as full-size varieties.




Once you have settled on a paddock area, insert some fencing and railing around the perimeter to keep them safe. Try and avoid using wire, as this can be potentially harmful to this fragile breed. Any latches surrounding the paddock need to be located on the outside as this breed is highly intelligent and may find ways of opening the latch.




You should never tether any type of goat up. They can become entangled and it also leaves them at the complete mercy of any predators, dogs or children.




Before you introduce the goats to the paddock, mark them so you can distinguish between individuals and as a security measure should they manage to escape the enclosure.




The hoof of a pygmy goat is extremely delicate, so in order to look after pygmy goats effectively, you will need to build dry, raised platforms where the goat can unwind and shelter. Even a small amount of exercise can impact on the pygmy goat hoof, so it's essential that they have an area designed solely for respite.




In terms of pygmy goat feed, the breed mainly devours grain and hay. They'll also require access to lots of water to maintain a healthy balanced diet.




However, this doesn't mean you can't throw in the occasional treat now and then. If your pygmy goat herd has been on its best behaviour, treat them with some blackberries – this is the pygmy goat alternative to chocolate!




As with any other animal, you will need to carry out regular cleaning with a hard wire brush, soapy buckets and cloths to keep the pygmy goats looking and feeling at their very best.
Articles