How to care for guinea fowl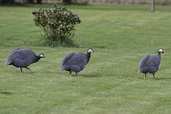 If you're looking to spice up the appearance of your farmyard with the eye-catching addition of guinea fowl, then the following information might be of interest. Caring for guinea fowl can sometimes be a complicated process, so the guide below may just help answer some of your concerns.
Guinea fowl farming: A guide
As a result of their distinctive appearance and unusual calling card, guinea fowls make for very interesting farm animals. For some, these beautiful creatures are kept purely for ornamental purposes to add a little variety to the farm, but for those looking to keep guinea fowl for commercial use, the high quality meat they provide often means guinea fowl are a safe, long term investment.
Baby guinea fowl are called keets and need specialist attention to ensure they grow up healthy and happy. When the guinea fowl chicks are born, they need to be kept at a warm room temperature of around 35ºc. Lower the temperature week by week as their bodies begin to grow and strengthen.
Keets will require plenty of protein during the first few weeks, so the high quantities of game bird feed you use in the early stages of growth can be scaled back over time as bodies develop.
The presence of guinea fowl on a farm has more than one advantage. Aside from the colour they can add to farming life and the delicious meat they provide that could help turn you a profit, they are great as a form of insect control. In fact, insects and bugs will form a large part of a guinea fowl's diet during the warmer months, so as long as you are providing plentiful amounts of water and additional supplements every now and then, there's no need to splash out on specialist guinea fowl feed until the grip of winter takes hold.
House the guinea fowl in a dry place that makes good use of location, shelter and space. As with a chicken coop, you'll need to install some high fencing to avoid foxes and other predators running riot inside the pen.
Unlike chickens, guinea fowl are fairly strong flyers, so don't panic if they spread their wings by day – for their own security, they will return to the guinea fowl pen as soon as the sun sets for the day to avoid predators.
Articles