How to care for goats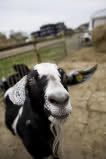 Whether you only have a couple of goats or you are running a commercial goat farm, knowing how to care for your animals is essential. Goats that are properly cared for will be happier and therefore will produce better goat milk and meat. This guide will teach you the basics of how to care for goats whether you are caring for a pygmy goat or an entire herd on a goat farm.
Let's start by running through some of the points laid out in the RSPCA's introduction to welfare and ownership guide for goats. These offer you some things to consider before you start purchasing goats to care for.
The RSPCA makes a point of noting that goats are social animals and therefore any potential owners must plan to allow for at least two goats, that get on well, to live together. They also mention that goats should not be obtained with the intention of using the, as 'lawnmowers' as they require a proper diet of high quality hay, grass, 'browsings' and additional supplements.
The animal welfare charity also states that uncastrated male goats should not be obtained by novice owners as they can display a number of undesirable behaviours.
Caring for goats
All goats need adequate shelter. The most suitable goat shelter for the UK climate is one that has three sides and a slanted roof. A goat farm would need a large barn to fulfil this role but if you only have a couple of goats, a suitable sized shed would suffice.
All goat feed should be placed in an accessible area that is off the ground so the goats cannot soil the feed. As with all animals, goats require lots of fresh water.
If you are looking at goats for sale, try and find out about the previous conditions they were kept in. To get good goat milk or good meat, they will need to be healthy and happy.
Goats' living areas should be kept secure at all times, regardless of the size of the goat farm. The fences should serve two purposes; to keep the goats in and to keep predators out. A predator like a fox could easily kill and eat a pygmy goat. A fence about five feet tall would provide good protection for all goats. The RSPCA also mentions that goats shouldn't be tethered, as this means that they can become entangled. It also leaves them at the mercy of bad weather, dogs and even children.
Part of knowing how to care for goats is to be able to provide simple medical care such as de-worming and caring for their hooves. Goats' hooves should be well maintained. Check them every month and trim if necessary. This will keep them from getting bent, cracked or possibly infected. Provide de-worming medication twice a year.
Many goat farms use both the meat and the goat milk; if either is intended for human consumption, always check with a vet whether the goat will need any injections to make the goat milk and meat safe.
In the UK, goats may require shaving in the summer months when the temperature starts to rise. You can either do this yourself or employ somebody to do it.
Tips & advice
Goats are most at home in hilly or mountainous regions. If possible, provide some sort of climbing apparatus within the enclosure to replicate their natural environment. Part of knowing how to care for goats, is knowing how to keep them occupied. If they are bored they are more likely to test their enclosure and maybe escape.
Goat feed should consist of hay and some form of concentrates. This could be oats, barley, bran etc. It the goats are kept in a grassy pasture, the grass itself will provide some of the nutrients that are required. A salt lick block is also a welcome addition to any goat farm.
It is worth remembering that goats can live for 12 years or longer and any premises where they are to be kept are classed as agricultural holdings and must be registered with Defra.
If you are breeding goats you should be aware that pregnant goats often produce twins, triplets or sometimes quads and owners should then be responsible for the animals or any euthanasia for goats that are ill or cannot be re-homed.
Articles