How to care for baby goats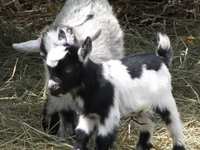 It can sometimes be hard to focus on the practicalities of baby goat care when you stare into the lovable eyes of these adorable, innocent creatures. But caring for a baby goat comes with all sorts of responsibilities, so read this guide below to further your knowledge of the daily care a baby goat will need as it grows.
Information on baby goat care
Like any young animal, the path to maturity for baby goats can be laden with difficulties. Therefore, it's important to be prepared for the hard work you need to put in during those challenging early months.




The kid needs to have regular access to colostrum in the weeks following its birth. In simple terms, colostrum is the milk a mother doe will produce directly after giving birth. A baby goat requires colostrum to stimulate healthy early growth. Thick in texture, it is rich with nutrients, proteins, carbohydrates and most significantly antibodies, all of which the kid will need to prosper during its first few months. Without colostrum in the immediate hours following its birth, a kid can experience problems later in life with the lining of its digestive system, so stock up on colostrum supplies before the does are ready for kidding. This milk can be bought from all good feed specialists. Feeding a baby goat colostrum is essential to stimulate growth.




The stomach capacity of a young kid is very small, so feeding needs to be frequent and controlled. As kids will struggle to ingest large amounts at any one time, look to feed them small amounts of bottled milk four to five times a day.




Bedding needs to be warm and sheltered to allow the delicate body temperature of baby goats to be maintained, so have plenty of straw in supply once kidding begins. Ensure conditions around the bed are clean and healthy, and if a kid is looking a little dishevelled, clean the legs and face with a warm cloth to ward off any harmful bacteria. As a kid grows, regular trimming needs to take place also.




After a couple of days of feeding with bottled milk, you can start to introduce solid foods into the diet. In terms of feeding baby goats, standard hay will be more than appropriate during the first few months. Once a kid has been weaned at roughly two months old, it's the right time to introduce any specialist feed the kid may require.




Consult with a vet as to which vaccinations or medication a kid may require as it heads towards maturity.




Other important procedures to consider during the first year of a goat's life include de-worming and neutering (if this is your intention). Caring for a baby goat is hard work, but a richly rewarding activity.
Articles