How to build a goat pen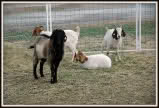 An essential part of goat keeping and goat farming is having a good area in which they can be kept safe and secure. Feeding goats is much simpler if you know where they are kept and can place food nearby.

Any goat farm will have a goat pen that will not only keep the goats inside, but keep predators outside. Having a goat pen built by somebody else will be expensive in both labour and material costs. Carrying out a DIY build will at least save you money on the former; money which can be used later on for other aspects of goat farming.
Carrying out a DIY build of a goat pen
Although you will be saving some money by carrying out the build yourself, it will still be quite expensive, you should therefore aim to make the pen last for a long time and be able to hold other animals should you move away from goat farming. If you already know how to build a fence the DIY build will be much easier.
You must first decide on the type of materials you want to use to build the fence. The fence posts will nearly always be made of wood but the wire you will use can be one of many types. Many pens that can be found in a goat farm will use barbed wire, others will use plain wire with extra chicken wire to help keep out predators. A popular practice in goat farming is to use electric fencing, this helps to keep the goats in and predators out.




Once you have decided on the materials you will use to build the fence, you need to work out how big you would like your enclosure to be. A general rule of thumb is to allow 200 square feet per goat. Consider how you will be feeding the goats; you could plan a goat feeder into your DIY build, if required.




Mark out the area that you will build the fence around. Assuming the goat pen is square, mark the four corners first. If you intend to build a large pen for your goat farm, you may need extra fence posts at intervals along the side to ensure the integrity of your DIY build.




Bury the four corner posts first and ensure they are sturdy. For large DIY builds you can bury the fence posts in concrete. Try adding an H brace on each corner post for pens larger than 50 feet across. This will ensure that tension in the wire will be kept.




Build the fence by wrapping the wire around the posts ensuring that it is kept taught. Use staples to nail the wire to the fence posts. Goat keeping can be tricky; goats are intelligent and will easily find places to escape. Taking your time during this stage of the DIY build will save you some headaches later.




The next stage of the DIY build is to begin construction of the gate. Consider how you go about goat farming and your methods as this will change the size that the gate will need to be. If you have a large goat farm you will probably use a tractor to transport hay and equipment. If this is the case, make the gate large enough to fit a tractor through. A smaller goat farm may only need a gate that is big enough for people and goats to get through.




Make sure the gate posts are very sturdy in the ground. One post will hang the gate and the other will hold the latch. Use a good quality latch and place it on the outside as goats a quite clever and will probably be able to open it.
Tips & advice
Keeping predators out is just as important as keeping the goats in. Build a fence that is double thickness to help deter predators. The outer fence can have chicken wire as well add security.




If you decide to use electric wire in your DIY build, teach any children that may be around how to behave around electric fences and how to turn it off should the need arise.
Articles