How to breed rabbits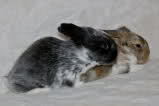 Although rabbits have a reputation for breeding uncontrollably, but there is some experience involved with knowing how to breed rabbits. Raising rabbits is a very fun thing for families and children to be part of. This guide will help you start the process of breeding and raising rabbits.
Before you get started
Before you begin breeding rabbits, you will want to make sure that you have all of the correct equipment including spare hutches for when the babies are weaned. You will also want to make sure you have the extra room, and if you are thinking of selling your babies it is also worth starting to build up a network of potential customers.
It is also wise to avoid breeding any aggressive or unhealthy rabbits. In fact, breeding aggressive does should always be avoided as you may have to inspect her hutch ot babies and an aggressive doe could make this pretty tricky.
Breeding rabbits: What you need to know
Rabbits have a very quick reproductive cycle, which makes it possible for them to be bred at almost any time of the year. There are only a few days of the month when the doe is not in heat.




The gestation period for rabbits is roughly 32 days. Doe's reach reproductive maturity at roughly 6 months old, larger breeds of rabbit may take around 9 months.




To begin with, keep the buck and the doe separated. Let them live near each other for a week or so to get acclimatised. To avoid any territorial problems when rabbit breeding, put the doe into the buck's cage.




Try not to watch them too much but once they have bred 3-4 times then take the doe out again and put her back in her own cage for an hour and repeat.




Once this has been done, allow about 26-28 days and begin preparing a nest box for the doe. The nest box is a wooden box that has a roof and is close on three sides.




You should provide the doe with plenty of extra hay and bedding. It is wise not to use towels or any fibrous materials, hay really is sufficient. The doe will use this to build a nest and during this process, you may find her fur all over the hutch. This is perfectly normal, so do not worry, she will pluck her chest in order to fill the nest. This process is not a definite sign of pregnancy, however, as many females will go through phantom pregnancies and carry out this act.




During any phase of breeding, it is wise to give the doe plenty of peace and quiet and you really shouldn't lift her up unless it is absolutely necessary. If you have to lift her up then never lift her by her stomach.
After the birth
One way to tell if the doe has given birth to kits is to keep an ear out for their cheeping, they tend to sound like baby birds. You can also keep an eye out for movement in the nest or if the doe has some blood on her nose. If you catch the doe giving birth then you need to leave it down to her. The odds are you will not witness the birth as babies tend to be born before dawn and the mess will all be cleaned up instantly, as the doe tends to clean the hutch in order to avoid any potential predators smelling the blood or other scents.
You need to make sure that once the kits (babies) are born, you feed the doe more than usual. You need to offer her as much food as she likes, as feeding her kits will drain her.
Some more tips & advice
If you feel confident that you know how to breed rabbits, it can be done a slightly larger scale.




Some people undertake rabbit breeding as a business. If this is the case, you should keep one buck for every ten doe's you have.




Multiple doe's can be kept together provided that the hutch is big enough.




Exercise caution when rabbit breeding, it will take time for a doe to be ready to breed again.
Articles