How to breed goats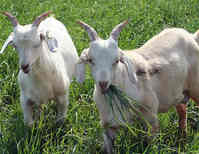 Breeding goats needs careful planning and a lot of hard work. Although many people decide to breed goats as a hobby, for others it can prove a lucrative commercial goat farming operation, as anybody who has tasted a delicious goats cheese starter can probably vouch for. While the tasks involved in setting up a goat farm can be hugely rewarding, they can be very time consuming, so if you're considering a move into the area of goat farming, you might want to consider our brief guide to goat breeding below.
Breeding goats: What you need to consider
Raising goats is a lengthy process, so before you set out on the challenge, consider the importance of a doe's breeding quality. Any commercial plans you may have are likely to be influenced by the breeding characteristics of the goat herd. Therefore, try and follow the 'breed up' approach by breeding does (females) with bucks (makes) of varying characteristics. Hopefully, by taking this approach, you'll help to smooth out any troubling aspects of the parent breed.
If you are considering breeding goats for commercial purposes, take the time to learn about goat body structure and conformation, as some goats may have a healthier body shape than others. To fill any gaps in your knowledge, visit local agriculture shows and talk to experts to assess the best course of action to follow.
Budget constraints will influence your next decision – which intensive goat breeding process to follow. The two choices available to you are natural breeding and artificial insemination. If commercial gains are your motive for goat farming, it's probably best to study the artificial insemination option. Although this is far more costly than waiting for nature to take its course, it will help to speed up the goat breeding process. Search around the local area for details of farms that can assist with artificial insemination, but remember there is no guarantee this process will always work for every goat.
Daily care and maintenance needs to be taken to ensure goats remain as healthy as possible. In terms of feed, most goats can generally be kept happy with standard grain and hay, but bear in mind some supplements may need to be added to the goat feed from time to time. If the herd exhibit any signs of worms, take steps to deworm them before the problem escalates. Regular trimming will also be needed to keep the goats in prime condition.
Keeping an eye open for when the goat breeding season arrives will help your chances of boosting herd numbers. To do this, check for any signs of heat in the does. Common symptoms of heat in goats include restlessness, excessive bleating, a loss of appetite and a swollen, red rear. If these signs are obvious, it's more than likely that the goat breeding process is underway.
Once a vet has confirmed any pregnancies, it's important to have a kidding kit ready to hand to ensure a doe is left in comfort during gestation. Items you need to include in a kit include soap, scissors, towels, a lubricant gel and antibiotic spray. Remember, the health of the doe is just as important as the health of the baby growing inside.
Articles