How to breed alpacas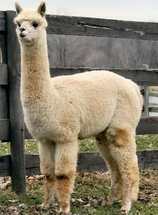 Breeding alpacas is one of the more unusual types of commercial farming, but this shouldn't dissuade you as breeding alpacas can be an extremely rewarding process. For many, commercial interests take second place to the satisfying lifestyle that breeding alpacas can offer. If you're keen to develop your interest in alpacas further, read on for more information.
Breeding alpacas things to consider
A distinct advantage of alpaca breeding is the daily interaction that this type of farming involves – alpacas are extremely intelligent, sociable animals so the rearing process can be a real joy. However, don't enter alpaca farming under any illusions, as it is rare much money can be made breeding alpacas. Apart from the woolly fleece, there is little other commercial gain to be made from keeping alpacas.
Therefore, for the majority of alpaca owners, it's the companionship that makes them such a prized asset on the farm. But before you buy, it's best to study alpaca breed types and traits to make sure you get the best possible value out of your purchase. Some people tend to be strongly influenced by the fleece, but do try and consider other aspects such as conformation and behaviour in your decision making process.
After weighing up your options, search around for a reputable alpaca breeder to buy from, as they will be able to offer you the best advice for alpaca breeding and general upkeep. As these are fairly unusual farm animals in the UK, it's a good idea to listen carefully to their advice. When buying, weigh up whether to buy a male alpaca or simply take female alpacas to a stud service at the appropriate time.
In terms of breeding, alpaca females are most fertile at 12 to 18 months old, but keep in mind the fact that an alpaca is an "induced ovulator", so there is no set breeding pattern. Therefore it's important to stay aware of any changes in an alpaca's behaviour to spot the signs of pregnancy in your alpaca. The gestation period for the average alpaca is 11 ½ months, so try to plan for births to occur in the milder spring months so conditions are perfect for the new arrivals.
Articles