Horse vaccinations - what to know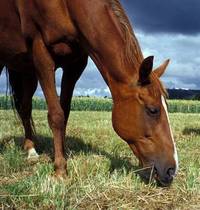 Any horse owner should put the health and happiness of their horse at the top of their priorities. One way to ensure a horse stays protected from the threat of illness is to carry out a regular horse vaccination schedule.
To learn more about horse vaccinations, read the guide below.
Horse vaccines: A guide
When planning an effective vaccination schedule for a horse, it's important to think about the character of your horse and the amount of work it carries out. An active horse regularly participating in competition may require more regular vaccinations than a horse that carries out limited exercise. An older horse will also need regular health checks, as it will be far more susceptible to injuries and illness than a younger, healthier horse.




Horses are creatures of routine, so if you are regularly travelling up and down the country, make sure that an effective vaccination schedule is in place, as the stress of upheaval may increase the likelihood of disease.




Consult with a vet to plan appropriate horse vaccines throughout the year. Sometimes, there can be regional outbreaks of certain diseases and ailments, so it's worth speaking with a vet to establishment the likelihood of your horse becoming susceptible to illness. A vet will also be able to provide you with some indication of the amount of different vaccinations a horse may need. Some vaccinations may be needed every couple of months; others once a year. Discussing the process with an expert will help you to plan an effective schedule.




In some cases, you may need to approach the vaccination process with a little caution. Vaccinations for pregnant mares and foals can be very different to regular vaccines, so never go ahead with a vaccination unless you are completely sure it will have no adverse effect on a horse's health. If you are in any doubt about horse vaccines, always ask an expert.
Articles