Hatching turkeys in an incubator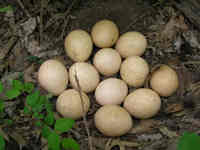 If you want to start rearing turkey, you'll need to learn how to hatch turkey eggs inside an incubator. Whether you want to rear them for commercial purposes or simply want to keep these intriguing animals as pets, you'll need to learn more about the incubation process. Read our guide below for some advice on hatching turkey in an incubator.
Turkey eggs and the incubation process
For turkey eggs to hatch effectively, you'll need to make sure the incubator is in good working condition. If the egg incubator is not brand new, give it a thorough clean before you even contemplate trying to hatch the eggs. Keep the incubator at a constant 37.5 degrees celsius (with the wet bulb at 30 degrees celsius) for at least 48 hours before placing the eggs into the incubator. This allows the incubator to reach the controlled conditions needed for hatching turkey eggs.




If the temperature seems to be fluctuating somewhat in the lead-up to hatching use water pans and air vents to make minor adjustments to conditions inside the incubator.




Next you'll need to get the eggs ready for the incubator. Before you place them inside, it's important to record the entry date on the shell so you can keep a track of the length of the hatching period for future years. Apply a different number to each egg, as this will help you keep track of the expected number of the gang once the hatching process begins to kick in.




In the days leading up to hatching, make sure you turn the eggs from side to side, about three to five times a day. Be very careful as you do this, as eggs are particularly fragile at this stage. Ensure that the eggs are left on an alternate side every night as this will help greatly with the incubation process.




Hatching turkey is all about careful scrutiny, so shine a light on the eggs every couple of days to examine either any problems or any progress. Sadly, in some cases an egg may prove infertile and thus incapable of hatching, so try and remove any of these eggs quickly to avoid contamination spreading through the egg incubator.




After three to four weeks, you can stop turning the eggs as they will be almost ready for hatching. Increase the humidity on the wet bulb reading a little to gently aid the hatching process. Hatching turkeys will need monitoring every couple of hours as some chicks may struggle to emerge from the shell, so keep a close eye on developments during this fourth week.
We hope that this advice has been of some use to you, however, if you have any other tips and advice that you think can help other people who are thinking of rearing turkeys then feel free to comment below.
Articles