Hatching duck eggs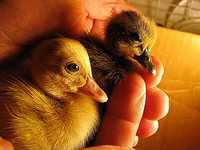 Hatching duck eggs is one of the most rewarding experiences you can have. How to hatch duck eggs is actually quite a simple process but this article will help you to make sure you do everything right.
How to Hatch Duck Eggs
1. You will need to get hold of some duck eggs that have already been fertilised.
2. Make sure you buy a duck egg incubator that is suitable for your egg hatching needs. You can check with a vet if you are unsure about the type of incubator to buy.
3. When hatching duck eggs in an incubator you must make sure that the temperature stays constant. Keep the temperature at 99 to 99.5 degrees Fahrenheit for the first twenty five days of incubation.
4. On day twenty five of the incubation process you should turn the temperature down to 98.5 degrees Fahrenheit and keep at this temperature until hatching which should occur about three days after changing the temperature.
5. You also need to monitor and control the humidity within the duck egg incubator. To hatch duck eggs successfully for the first twenty five days of incubation you should set the humidity to 86% for the following three days you should increase the humidity to 94%.
6. During the first twenty five days of incubation you should turn the eggs an odd number of times per day, 3, 5 and 7 times are usually good numbers to choose from.
7. It is very important to turn the eggs over as it allows them to rest in different positions. Make sure though that you do not turn the eggs in the last three days of their incubation.
8. After seven days of incubation there is an option of candling. Candling is where you place a bright torch at the top of the duck egg to check on the fertilisation process.
9. If you have any problems or questions contact a vet or local animal centre.
Articles