Hatching Chicken Eggs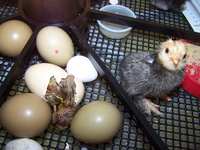 Hatching chicken eggs is brilliant fun when you know how. Children love to hatch chicken eggs and it can help to teach them about caring and the growth process. If you want to have a go at hatching chicken eggs yourself then this article will show you how to do so successfully.
How to Hatch Chicken Eggs – Step by Step
1. Order some fertilised eggs from a poultry farm or hatchery.
2. Check the eggs are medium sized and have no cracks or holes in them.
3. If you are breeding chickens then letting the hens sit on the eggs is the best way of hatching chicken eggs; this is called setting.
4. The next stage is to choose an appropriate chicken egg incubator. If you want to hatch large numbers of chicken eggs then you should use a forced-air incubator that has a fan. If you are only hatching a small number of chicken eggs then a still-air incubator will suffice. Most people prefer the forced-air incubators but it is advised to speak to a vet or poultry farmer first as they will know which incubator is best suited to the egg hatching needs.
5. You must test the incubator before putting any eggs inside, and then for twenty four hours you must check that the temperature and humidity stays the same.
6. The incubator should be put indoors in a room that has good ventilation.
7. Once you are sure the incubator is working then you can put your eggs inside.
8. The temperature inside the incubator will decrease naturally in the first few hours but do not try to adjust the temperature for the first 48 hours.
9. The incubation period is approximately twenty one days.
10. In a forced-air incubator it is important to keep the temperature at 100 degrees Fahrenheit. If you decided to use a still-air incubator to hatch chicken eggs then you should keep the temperature at 102 degrees Fahrenheit.
11. Before the eggs start hatching you should keep your eggs in a humidity of about 58-60%. After the eggs start to hatch the humidity should be increased to 65%.
12. You should turn the eggs half a turn about four to six times per day. Make sure you do not turn the eggs within three days of hatching.
13. Never set the eggs with the small end pointing upwards.
14. When hatching chicken eggs do not help the chicks out of the shells. Chicks need to work their way out of the shells themselves in order to reach proper maturity.
15. Clean out the incubator well after all the eggs have hatched before you use it again.
16. If you have any problems and concerns contact your local vet or animal care centre.
Articles