Chicken vaccinations – All you need to know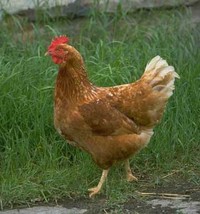 If you decide to keep chickens then you will want to ensure that they are fully vaccinated. If you allow your flock to get diseases then this can lose you money, so making sure they are fully vaccinated is vital. Here we have outlined all of the important vaccinations that your chickens should be given as early as possible.
Sanitation
Keeping your poultry in sanitary living conditions will make a big difference to their future health. When you intend to start administering the chicken vaccines, wear appropriate clothing that can be easily cleaned and disinfected to prevent the potential for spreading disease. Make sure all the equipment you intend to use is sterile.
Sterilisation is not just vitally important with chickens, it is always something that should be taken into consideration when you are vaccinating any animals.
Marek's Disease
This herpes virus is fatal and spread through the respiratory system. The virus can live at ambient temperature for up to 65 weeks and has developed an immunity to some disinfectants. Administer the chicken vaccine the chicks on the day of hatch by injection under the skin at the back of the neck. Observe for a 2-12 week period.
Infectious Bronchitis
This condition targets the respiratory and the uro-genital tract in the bird. Many chickens live with this disease but it affects growth and egg production. Choose a live chicken vaccine that is suitable for your area and combine it with the Newcastle chicken vaccine and administer at 10-35 days old. A killed virus can be injected into the muscle between 14-18 weeks old.
Newcastle Disease
It's transferable to humans (causing mild flu like symptoms), which makes this chicken vaccine an important part of the chicken vaccination schedule. This condition affects many birds and kills up to 90% of those infected, it attacks the nervous and respiratory system. Apply the chicken vaccination by including it in drinking water or eye drops and administer at one day old. The Chicken vaccine can be applied via injection to chickens before they have started laying eggs.
Laryngotracheitis
This disease can live for 10 days in droppings and up to 70 days in carcasses, outlining why proper sanitation is imperative. This targets the respiratory system and symptoms include gasping, conjunctivitis and mucus buildup in the throat, killing quite a high proportion of birds (up to 70% in some cases). Administer the chicken vaccine only if a problem already exists. The chicken vaccination itself is given by eye or nose drops at four weeks plus.
Fowl Pox
This viral condition is spread by mosquito bites and direct contact between infected birds. Chicken vaccinations should only occur if there is an existing problem. It occurs in two forms, the first of which causes lesions on the outside from which the chicken will usually recover. The second is contracted by inhaling the virus which attacks the larynx and the trachea. This form causes more fatalities. Chicken vaccination is done by pushing slotted needles holding the chicken vaccine through the wings at anything from one day old and upwards.
Fowl Cholera
This condition causes noticeable green diarrhoea and the mortality rate is roughly 65%. Only vaccinate if there is an existing problem, the chicken vaccination is administered by placing a live chicken vaccine in the drinking water and then administering oil-emulsion injections four weeks apart.
Articles