Chick vaccinations - What to know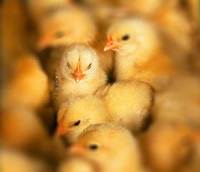 Chicks are very fragile creatures, and during the early weeks of their development it's important to plan an effective chick vaccination schedule to ensure they flourish into maturity.
Chick Vaccinations - A Guide
One of the most prevalent of all poultry diseases is Marek's disease, and chicks are particularly vulnerable to this infection. Sadly, once the disease has been diagnosed, there is no cure – so it's important to be vigilant against this dangerous poultry infection.
It's always best to consult with a vet when it comes to handling young animals. Therefore, unless you have prior experience with administering a chick vaccination, ask an expert for guidance before offering a chick vaccine. Generally, the vaccination will come in two parts – the vaccine itself and a small amount of dilutant. Ensure the vaccine is kept cool at all times before administering.
When you start the vaccination process, set up all the required equipment and vaccine in a safe place. Before you begin, clean the lids of both the vaccine and the dilutant with a cotton ball. Withdraw a small amount of dilutant with a sterile syringe. Insert the contents of the syringe (usually around 3ml) into the vaccine bottle. Swill this mix gently until the vaccine wafer gradually dissolves.
It's important to break the vacuum in the vial, so hold the syringe and fill it with roughly 3ml of air. Carefully place the tip of the syringe needle into the vaccine and vial and inject the air. Following this, keep the needle in place, tilt the vial and fill the syringe with the complete vial mixture.
Next, it's simply a case of inserting the contents of the syringe into the dilutant bottle. Allow a couple of minutes for the mixture to settle.
Set two boxes aside before you begin the chick vaccine process. One will contain the unvaccinated chicks, the other will be used for holding the vaccinated chicks as you focus on this complex process.
Now, you can focus on the vaccination method itself. Fill a small, sterilised syringe with roughly 0.2ml of the vaccine mix and gently inject it into the neck of a chick. It may take a couple of moments to find an appropriate area of the neck in which to inject.
Chick vaccinations should be carried out with the utmost care. Make sure the injection does not pierce too far into the chick's neck; similarly it's important to make sure the needle is inserted in far enough for the vaccination to prove effective. Once a chick has been vaccinated, move it into the second box.
Articles