Building a chicken run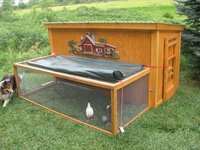 If you are thinking of buying chickens then you will have to either buy or build yourself a chicken coop. Where else are your feathery little friends going to sleep? A chicken coop offers the birds a safe place to live and means that they can sleep comfortably at night. It offers them protection from potential predators as well as from the elements, meaning you won't wake up one morning to a number of butchered or frozen chickens.
Before you start
It is important that before you start building your coop you take a number of things into consideration. You will want to decide on how much space is required depending on the size of your flock, as well as where you will want to put your coop. For example, you are better off sitting your coop as far away from any busy areas as possible, as these birds can be timid and easily stressed.
It is wise to situate your chicken coop away from main roads or driveways in order to make the birds' lives as relaxed and comfortable as possible.
The building process
So, before you crack on with the building, you will need to head out and buy some supplies. You can't magic a chicken coop out of thin air remember. So, here are the items you will need in order to be able to construct your chicken coop.
Building the fence - Once you have decided on where you want to place the chicken coop and how large you want it to be, you will then need to place markers where you want the fence posts to sit. You should place the posts around four feet apart and they should also be around four feet in height.
You should then make the holes for the posts to sit in. Using the post hole digger - or a shovel if you don't own one - make holes that are slightly larger than the fence posts. You should always ensure to keep the dirt dug out, then drop the posts into the holes and pack the dirt back into the holes securing the posts in place.
Once you are positive that the posts are firmly in place, you should then screw wooden boards from each post to the next to add extra rigidity. About three rows of these should be enough. You should also include a doorway for your own access.
Once you have built the fence, you should then place four more posts - around eight feet tall - into the ground in the middle of the area. These posts should sit in a square shape and you should also place wooden beams on top of them.
Building the netting - Once you have completed the fencing you will want to add netting to your coop. You should take the netting and throw it over the taller posts and stretch it out to meet the fencing that you have constructed. You should use a solid staple gun to fix the net to the fence so that it is tight and secure, making it hard for predators to infiltrate the coop.
Attaching the wire - Once the netting is attached to the top of the coop you will then want to make it even more impenetrable by adding chicken wire to the complete outside of the fence. You will want to ensure that it covers the entire outside of the fence from top to bottom, stapling it in place as you did with the netting.
Shelter - Once the coop is safe and no predators can gain access to your birds, you will want to ensure that there is plenty of shelter within the coop to protect the chickens from the elements. You will want to construct a small wooden box, or you can even use an old dog house, and place it within the coop. You can then fill this with straw and leave it open meaning your chickens can pop inside if it gets cold.
If you have any other ideas, tips or advice on how to build a good quality chicken coop then why not leave it in the comments section of this page? You never know you might just be able to spread your wisdom and help fellow chicken lovers keep their birds safe and warm.
Articles