Build a chicken coop quickly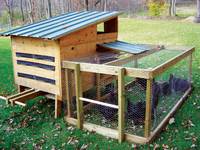 Building a chicken run will be essential if you want to keep chickens. If you build a chicken coop you will maximise their safety and protect them from the weather, and any predatory animals trying to get in.

It is possible to build chicken coops in a short space of time, as long as you are prepared and ready to work. For a guide on building a chicken run quickly, see the following advice.
To build a chicken coop – You will need:
So, here is our guide to building a chicken coop:
Begin
To start to build a chicken run, take all four of your metal posts and dig them securely into the ground so that they are spaced out marking out the corners of a rectangle. These corners can be spaced out as far as you wish, depending on how large you would like your chicken coop to be.
Wire
The next step in building a chicken run involves wire. You must wrap your chicken wire around these four posts and you should then mound some earth up around the perimeter of the wire at about two inches either side.
Roof
Next up, you should nail the tin roofing across the two wooden posts, and, if you are required to, you can also make door to the coop. Once you have done the previous, you should take the plywood pieces that are as tall and long as your coop and loosely plant them against the metal posts.
Extras
If you find there is a buildup of water around the wire, you could dig a trench on the outside of it. Not only will this keep rainwater out, it will also deter predators.
Remember this is a guide to building a quick chicken coop. If you have more time and expertise in DIY then you may want to spend more time planning and build a more sturdy structure.
Articles