All you need to know about lamb vaccinations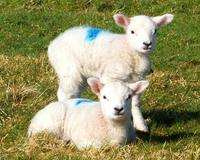 Having a lamb vaccination schedule is extremely important as it can help prevent economic losses from certain diseases. Sheep need to be vaccinated routinely from diseases which occur every year.
Lamb vaccines can be seen as a sort of insurance, they stimulate the lambs' body defence system to build immunity against particular diseases. This lamb vaccination guide should help to outline the essential facts about lamb vaccines.
When to start vaccinating your lambs
The lamb vaccination schedule should begin with lambs being given two doses of vaccine four to six weeks apart (usually at marking and weaning). These two doses of lamb vaccine are essential in the development of full immunity when using killed vaccines.




You will find that lambs immunity declines without annual booster injections. If you are going to give some booster vaccines then the best time to do so is four to six weeks before the time of greatest risk.




Some vaccines give life-lasting immunity to disease so you must check with your vet which lamb vaccines will need booster jabs.
Vaccinating pregnant ewes
You should vaccinate pregnant ewes against clostridial diseases two to six weeks before lambing. Vaccinating at this time will protect your sheep through the stressful time of lambing when immunity to disease decreases.




The ewe will pass on antibodies through the colostrum which will give the lamb immunity. These antibodies are usually taken up by the lamb in the first 24 to 48 hours of life and will give them protection for about six to eight weeks.
Young lamb vaccination
It is essential that you immunise lambs after six to eight weeks of birth. This is when the antibodies transferred from the ewe to the lamb begin to weaken.




Combined clostridial and CLA vaccination are usually recommended at marking time.




If you delay lamb vaccination then you run the risk of increasing the lamb's chances of succumbing to pulpy kidney.
Vaccinating older lambs and weaners
If you intend to retain the lambs after weaning then you will need to give them booster injections.




Older sheep and weaners will need to be vaccinated every 3 to 4 months if going onto lush pasture to prevent pulpy kidney.




If you have decided to use a 6 in 1 lamb vaccine then you will need to give a booster within 6 months of shearing to provide adequate protection from the cheesy gland.
Articles