Advice on pet allergies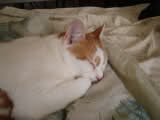 Many people suffer from pet allergies. A lot of people think that these allergies come from the fur of the animal when, in actual fact, they are usually caused by the dander, urine and saliva of an animal. Not sure what dander is? It is the dead skin that has fallen from the animal. Not very nice ey?
There are many different pet allergy symptoms; some people begin to sneeze while others can report an inflammation of asthma. This guide will outline some of the causes of pet allergies and some of the various pet allergy remedies (mostly prevention) that can be found.
Pet allergies
One of the best pet allergy remedies is to try and prevent contact with the allergens in the first place. Well, this isn't actually a remedy as such, but more of a preventative tactic used to stop you from having an allergic reaction.




It is entirely possible for a house that doesn't have pets to bring out pet allergy symptoms in someone. Dander can be brought into the house on somebody's clothing, especially someone that regularly comes into contact with animals.




Of the pet allergies, it is more common to be allergic to cats rather than dogs. Certain dogs however can be more prone to bringing out pet allergy symptoms in someone. Breeds that don't shed such as poodles are considered to be less prone to bringing out pet allergy symptoms than other dogs such as golden retrievers. Although it isn't the hair itself that brings about pet allergies - the hair often carries the dander.
Pet allergy symptoms & treatment
Some pet allergy symptoms can be misdiagnosed. It could be a change of shampoo or deodorant that is bringing about the reaction yet it often gets labelled as pet allergies. Even pollen brought in from outside by the pet could be the problem.




Some people with asthma can suffer asthma attacks, especially around cats as a result of pet allergies. This can be a serious problem for someone and medical intervention may be the only option for effective pet allergy treatment.




For mild cases of pet allergies, normal over-the-counter treatment can provide excellent pet allergy remedies. Avoid exposure or contact with all cats or dogs if you have a severe reaction to the pet allergen. Medication may be required in some instances to treat the symptoms.
Preventing pet allergy symptoms
Some people find that an effective pet allergy remedy is to stop the animal being able to get into the bedroom. If the room is kept clean and the door is kept closed to prevent any allergens getting in, it can have a substantial effect on the frequency and severity of the pet allergy symptoms.




Good quality air filtration symptoms are an effective but expensive pet allergy remedy and should ensure that the symptoms don't flare up too much.




Keeping your pet properly groomed and brushed will have a big impact on the pet allergy symptoms and reduce the need for treatment. You may need to get somebody who doesn't have a pet allergy to do this.




Removing any carpets and having hardwood floors will help to prevent the dander sticking to surfaces and causing a flare up of the pet allergy symptoms.
There you go! Hopefully this will be of some help to you and help you get over your allergy. Follow these tips closely and your life can become a hell of a lot more enjoyable. You will most certainly be sneezing less!
Articles