Worry that the rise in antibiotic usage on farms could be a risk to humans
News
•
Thursday 13 June 2013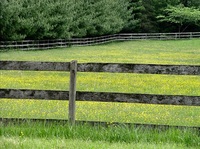 Earlier this week the Guardian ran a story on their website asking the question: Is the rise in antibiotic use on farms a threat to humans?
It reported that British farmers had been increasing the amount of potent antibiotics that they were using over the past ten years. This has caused many to fear that the growing number of factory farms could lead to an increased risk of antibiotic-resistant strains of bacteria escaping and infecting people.
A number of medicines, including those used to treat meningitis, pneumonia and other serious diseases, had increased threefold from 2003-11. And, other drugs, called fluoroquinolones, which are used for tuberculosis, C difficile, HIV-related infections and more, have all increased in usage by 50% in the same time frame.
These drugs have been flagged as some of the most important in human medicine by the World Health Organisation. This is mainly due to the fact that they are our last line of defence against serious diseases and they are deemed to be under threat as there are bacterial strains that are growing more resistant to them.
Experts speaking to the Guardian said that the rapid increase in the use of these medicines on farms is becoming a threat to people. There are a lot of people, including Christopher Thomas, professor of molecular genetics at Birmingham University, who are worrying about whether we should use the same antibiotics on farms as we do on humans.
The Guardian also reported that the government doesn't track the use of veterinary antibiotics in detail, which makes it impossible to tell how many animals are being treated and for what diseases. The only data that is currently available is the annual tonnage of antibiotics sold for agriculture.
Due to a conflict of interests, in many other countries, vets aren't able to profit from the antibiotics they prescribe. However, in the UK this is not the case and green campaigners are unhappy that the vets are able to make money by selling farmers the antibiotics.
The main worry, however, is that there could be the potential for antibiotic-resistant bacteria to spread to humans through the employees working on the farm. These people could then spread the infection to their families. Other worries include the spread of the bacteria by run-off water from the farm and through the meat from slaughtered animals.
However, the chief executive of the Veterinary Medicines Directorate, the government agency that oversees antibiotic use on farms, Peter Borriello, said that people shouldn't be too concerned about this issue. He told the Guardian that the UK farming industry was well-regulated and used less antibiotics than a number of other EU countries.
News