World Food Day focused on sustainable food systems
News
•
Wednesday 16 October 2013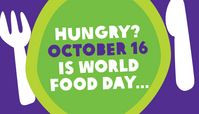 Today (16th October 2013) is World Food Day, and the main focus this year is sustainable food systems for food security and nutrition.
The main aim is to increase the understanding of the issues and solutions in the drive to end world hunger. One key objective of the event is to drive awareness of agricultural food production and stimulate the national, bilateral, multilateral and non-governmental efforts of it.
Britain is currently only 62 per cent self-sufficient, and when measured over a single calendar year, British food would run out on 14th August 2014.
Speaking on the matter, the President of the National Farmers Union, Peter Kendall, said: "The NFU is determined to reverse this trend and has launched a Back British charter aimed at getting the public, politicians and food industry to pledge their support."
"Our farmers and growers have a fantastic natural capacity to produce more British food, given the right market signals and the confidence to invest. We have the right technologies to produce more food, more sustainably.
"But there is more to do to empower our farmers to enable them to make the most of our natural resources and feed our growing nation."
World Food Day was established by FAO's Member Countries at the Organization's 20th General Conference in November 1979. The date chosen, 16 October, is the anniversary of FAO's founding in 1945.
News