Wind and solar power now larger than nuclear worldwide
News
•
Tuesday 12 February 2013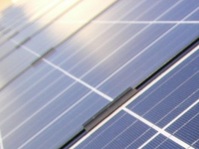 Worldwide solar power potentially now exceeds 100 gigawatts of electrical generating capacity. The figures were released recently by the European Photovoltaic Industry Association.
This is greater than the overall rating of the entire UK power plant system, which currently totals around 85GW. And, it represents an estimated saving of around 53 million tonnes of CO2 emissions per year.
In Europe alone there were 17GW of solar PV installed in 2012, which was over one half of the total 30GW installed worldwide.
Germany managed to hold onto its world-leading position, with 7.6GW added last year. This was substantially higher than the second placed nation, China, which installed 3.5GW. The remaining nations in the top five were Italy (3.3 GW), USA (3.2 GW) and Japan (2.5 GW). The UK market, coming rather late into the solar game, grew by about 1.1 gigawatts.
Wind power has been established around the globe for a longer period of time than solar energy and in 2012 it grew by 46GW to reach 284GW. Both the USA and China had the largest growth in wind power, with both nations increasing by around 13GW, according to the Global Wind Energy Council.
Germany, India and the UK each added around 2 GW to their installed wind capacity, and wind power across the EU-27 member states grew by 12% to over 100 GW.
Remarkably, the total renewable generating capacity of wind and solar power together now exceeds the world capacity of nuclear power, a much older industry which has been stagnant lately at around 360-370 GW, failing to grow any further during the past ten years.
The actual amount of electricity generated by renewables has yet to surpass nuclear, which operates for more hours per year (typically 7,000 hours, compared with about 2,200 for wind power and 850-1500 hours for solar) – but it can only be a matter of time before renewables will make up the majority part of both UK and world energy production.
News