Westcountry farmers want more information on the Schmallenberg virus
News
•
Monday 14 January 2013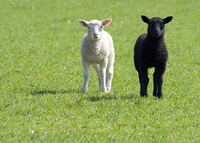 Farmers in Devon and Cornwall have spoken out saying that they require more information about the Schmallenberg virus.
The virus can lead to lambs and calves being stillborn or deformed and it has already been confirmed at 147 farms in the South West according to DEFRA.
It has been confirmed at 58 farms in Cornwall and 89 farms in Devon and some farmers are beginning to criticise the lack of government information about the disease.
According to the BBC, DEFRA has stated that it was working to develop its knowledge of the disease, which was first identified in 2012.
Fentogollan Farm, in Cornwall is located near Truro and has about 1,500 sheep. It has sent off some samples for virus testing, which have so far all come back negative. However, despite having received no positive test results, the staff at the farm have said that they are still concerned.
Jeremy Hosking, the livestock manager at the farm, spoke to the BBC saying that they felt "completely in the dark".
He said: "The one things that concerns us is a lack of information. We were talking about this disease last year, and we know no more about it now.
"We feel that sure that there is a little more known about it now that we should be getting information on."
The South West spokesperson for the NFU, Ian Johnson, said that the union was well aware that farmers were becoming concerned.
He added that he had heard anecdotal evidence of "up to 45% of lambs on some farms" being affected in the lambing season so far, which runs from December to May.
Government scientists said that it was believed that the virus was carried to the United Kingdom by midges blown across the Channel and was then spread by native midges this summer.
The first sign is often when livestock give birth to deformed or dead young - which can be months after the infection has occurred.
Defra said it was "closely tracking the disease and will continue to work with partners across Europe and the UK to develop our knowledge of the disease".
News