West Country farming activist criticises Peter Kendall in the build up to the NFU elections
News
•
Friday 29 November 2013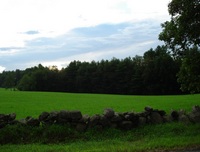 West Country farming activist Richard Haddock has called for radical change when the elections at the top of the NFU take place.
Writing for ThisIsSomerset.co.uk he claims that he is keeping a close eye on the runners that are being declared for the presidential race, which takes place in February.
He did claim, however, that he has not seen anything that suggests that the election will bring forward the "kind of man" that the NFU so desperately needs.
He went on to state that he feels the union requires someone who will help it regain the trust and support of its grassroots members.
Haddock was rather scathing in his comments on the current president of the NFU, Peter Kendall.
He said: "I had to laugh recently when I read a lavish tribute to Kendall penned by a farming commentator – who used to work for him, incidentally – and who likened him to Lord Plumb in terms of what he has achieved on behalf of the NFU.
"Nothing could be further from the truth. To compare Kendall to Lord Plumb is to elevate the former and denigrate the latter. Lord Plumb was a man who gave the NFU status and dignity. He was indeed a very difficult act to follow."
According to Haddock, in the eight years that Peter Kendall has been at the helm of the union, he has managed to "regulate the NFU to the status of an inconsequential sideshow on the political scene".
He went on to state that Kendall would be "an easy act to follow" claiming that it would be hard to "make such a mess of things as he has".
Haddock criticised Kendall for the way he acted in a number of situations and stated that the NFU needs a new president who will listen to what the "rank and file" has to say. He also stressed that the pool of wealth and wisdom is not confined to national office-holders and their advisors.
It will be interesting to see how Pete Kendall responds to these claims and whether or not, Haddock's views will gain support in the build up to the election.
The NFU has yet to comment on the situation...
For the full article, written by Richard Haddock, click here now.
News