Welsh government awarding £500,000 to farming charities
News
•
Wednesday 17 April 2013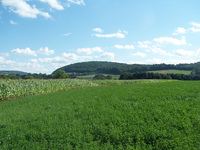 The Welsh government is awarding £500,000 to the three main farming charities in an effort to address what it says is "the human impact on farming families" as a result of the severe weather conditions.
The Cabinet released a statement yesterday (Tuesday 16 April) where they announced the donation through Alun Davies, th Natural Resources and Food Minister. The announcement was made as part of an update on what the devolved administration is doing to tackle the large number of losses on farms across North Wales.
Davies made it clear that he would not be making financial aid available and he also went on to confirm that he would seek authorisation from the European Commission to bring forward the 2013 CAP Single Farm Payments to mid-October. These would be offered to farming businesses that were affected by the weather and mid-October is the earliest point at which they could be made.
In the statement Davies also said that he had asked his officials to work closely with the Royal Agricultural Benevolent Institution (RABI), Farm Community Network (FCN) and the Addington Trust to decide how best the Government could support their work.
He said: "Following discussions yesterday, I intend to make a total of £500,000 available to those charities to help them with their work in the short term and will be targeted at those areas which have suffered the worst of the severe weather.
"I will be offering £100,000 to the FCN and £150,000 to RABI to assist them with their pastoral and advice-related work, and direct support to the most hard-pressed families.
"Given the general shortage and increased costs of animal feed across most of the country as a consequence of the poor weather, and in order to help address animal welfare and financial difficulties facing, I will also making £250,000 available to the Addington Trust to help them provide short-term support to those families in Wales who are least able to meet these costs.
"Looking to the future, I am meeting Kevin Roberts this afternoon, to discuss how he takes forward his review into the medium and long-term resilience of the industry that I announced last week and will make a further statement on that review within the next fortnight."
News