Welsh farmers worried about reduction in income due to CAP cuts
News
•
Tuesday 14 January 2014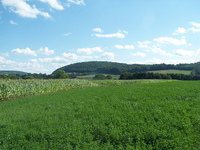 Farmers around the United Kingdom are soon to discover just how much money they will receive over the next few years in order to help them with food production.
These payments, which come through the EU's Common Agricultural Policy (CAP) are expected to fall, after the CAP was reduced.
Farming unions are saying that there are tough times ahead and that incomes will fall between now and 2020, which could lead to the prices of meat going up.
Alun Davies, the natural resources minister, is the man who is to reveal the payments. He said that it was time for a "radical change" and re-affirmed his statements at the end of last year when he said that it would be the first step in "real term decline of direct support for farmers".
Farmers in Wales are worried about the cut to their payments, which have been used by the Welsh government to fund activities which support farmers, the countryside and rural communities.
There are around 16,000 farmers in Wales, who may be affected by these cuts.
The main focus of CAP is to help farmers produce food at affordable prices but farmers fear the changes could push up the price of food.
Speaking to BBC Radio Wales, Mr Davies said: "What I am going to be announcing today is a restructure of agricultural support in Wales, probably the most radical change we have seen for decades, and we are going to be announcing a series of investments to make agriculture more efficient and profitable in the future.
"What we are seeking to do is to invest in businesses, in business growth and agriculture... and also want to make agriculture more sustainable."
Last year it was announced that direct farm payments for Wales would be around €2,245m (£1,870m) over 2014-2020, with €355m (£296m) allocated for rural development schemes, according to the BBC.
But the budgets for both are being reduced by 12.6% and 5.5% respectively after allowing for expected inflation.
There has also been plans put in place to use some of this money for rural development.
News