Welfare groups claim Member States are backing banned farming practices
News
•
Tuesday 18 June 2013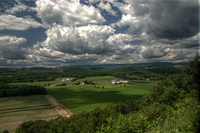 According to a report carried out by welfare organisations, international banks and credit agencies are investing in agricultural companies that fail to meet the EU's standards for the humane treatment of farm animals. And, they are reportedly doing so with the financial backing of Member States in the European Union.
The report was undertaken by the Humane Society International, Compassion in World Farming and Four Paws. It discovered that Muyuan Foodstuff, the Chinese pig producer, had received investments of nearly US$30 million, while it continued to confine the majority of its breeding pigs in sow crates. It is such intensive confinement systems like these, which restrict the movement of these animals preventing them from walking, stretching their limbs and more.
The EU has, in recent years, made plenty of progress in improving the standards of animal welfare. They have prohibited farmers in Member States from using intensive confinement systems such as barren battery cages and sow crates. And, they are trying to ensure that this progress be encouraged elsewhere, and that is certainly should not be undermined by EU investments.
"Money from EU citizens has no business winding up in the pockets of farmers who don't meet EU standards for the treatment of animals." Said Chetana Mirle, the Director of Farm Animal Welfare for HSI, when speaking to www.farminguk.com.
She continued: "EU farm animal welfare policies were not enacted to merely push these unacceptable practices out of the EU, but to reduce animal suffering and answer consumer demands for farm animal welfare."
The report has uncovered support for a number of organisations with poor animal welfare standards abroad that were being invested in by EU Member States. The welfare organisations were asking for investment institutions to adhere to EU farm animal welfare standards.
News