Watch the controversial pro-GM speech from Mark Lynas at the Oxford Farming Conference
News
•
Friday 11 January 2013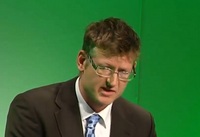 Mark Lynas caused quite a stir with his speech at the Oxford Farming Conference. Lynas, was one of the main players in the anti-GM crop movement of the mid 1990s. In fact, he was one of the main people responsible for the group forming in the first place and he spent a lot of his time protesting and ripping up crops.
However, during his address at the conference last week he angered many anti-GM crop protesters by explaining his reasons for switching sides. That's right, Lynas is now a frontrunner in the pro-GM crop movement, due to its ability to help feed the poorest and hungriest people on the planet.
I am sure that you have heard plenty about his speech and some of the reactions afterwards, but before you make up your own mind, why not take a look at his speech for yourself.
To read the entire transcript of his speech, click here.
News