Watch out - there's a tractor on the motorway!
News
•
Tuesday 24 June 2014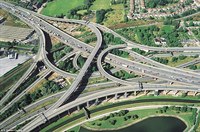 A bizarre incident took place yesterday morning which saw an eight-tonne vehicle seized for driving on the motorway.
That's right, the motorway!
A large red Case tractor was spotted travelling along a busy motorway at 10mph between junctions five and six on the southbound carriageway of the M6 near Spaghetti Junction in Birmingham.
The tractor was then seized by the police after they discovered that the driver had no insurance.
The vehicle was seized by officers from the Central Motorway Police Group after they spotted it at about 5.25am yesterday (23rd June 2014).
It was reported, by the Daily Mail, to have been worth around £50,000 and Inspector Mark Watkins told the paper: "To see such a vehicle travelling on such a busy stretch of road was both unusual and quite a surprise for the patrol officers.
"Tractors are one of the various prohibited vehicles on the motorway network - a fact that the driver seemed to be unaware of."
The whole incident seemed to have confused everyone involved and even the driver was unclear as to where he was taking the tractor.
"It was unclear where the driver was taking the tractor to," continued Inspector Watkins, "and how far he was planning to travel along the network for, but either way taking the tractor onto the motorway posed a risk to himself and others, whilst breaking the law."
The police also reported that the driver was then left to make his own way home - minus his expensive tractor.
What an odd incident. We are assuming that you all know you aren't allowed to take your tractor on the motorway, but if you weren't aware of this, then we hope you are now!
Adam Rowden is a writer for Farming Ads view his
Google
+ page.
News