Want to get into sheep farming? Take part in this free course
News
•
Tuesday 24 September 2013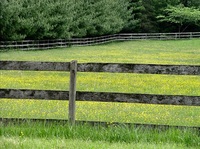 Any young or aspiring farmers, who are looking to get involved in the industry, are being invited to register for a free one-day course dedicated to getting onto the farming ladder.
The course focuses on getting individuals into the farming sector through the sheep industry.
The event, which is organised by the National Sheep Association (NSA) and the Royal Agricultural Society for England (RASE), will showcase the sheep sector as an exciting and appealing career path.
Taking place on 8th October 2013, at Manor Farm, Sutton Mandeville, the event is completely free and lunch will also be provided.
It is open to everyone, whether you are running your own sheep farming business, taking more responsibility on the family farm, just starting out, or even if you simply want to begin your own flock one day.
Tim White, an experienced sheep farmer, will be hosting the event and he will be taking visitors on a farm tour as part of the day's activities.
Mr White's business has been thriving and with no family farm behind him he now runs a flock of Exlana sheep on rented ground over a 100-mile radius.
Other speakers at the event include 25-year-old Marie Prebble, NSA South East Committee Member and highly successful NSA Young Shepherd of the Year competitor.
Marie will be sharing her experiences of running a sheep enterprise on a tenanted farm near Canterbury in Kent.
Nuffield scholars Catherine Nakielny and Rob Hodgkins will also be talking about their travels abroad, looking at groundbreaking sheep-breeding techniques in other major sheep producing nations.
The NSA will reveal future plans for its Next Generation at the event, which is the organisation's project dedicated to young people in the sector. It aims to signpost them towards opportunities and information whilst also providing guidance and other chances to develop their personal and business skills.
News