Vote for #studentfarmer to win in magazine awards
News
•
Thursday 08 May 2014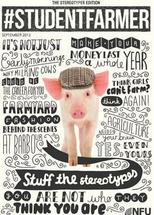 The National Farmers Union's own magazine for the next generation of farmers has been shortlisted for a top award and is in need of your vote.
The mag, called #studentfarmer, is going up against the likes of Cosmopolitan, Esquire and Harper's Bazaar in the running for the award.
#studentfarmer was launched in September 2012 and it is the only magazine shortlisted for Cover of the Year that is based on farming. The Cover of the Year is in the Professional Publishers Association Awards and it will be decided by a public vote.
The NFU is calling for help in order to take on some of the biggest names in the magazine business in order to make their 'Fighting Farming Stereotypes' edition a winner at the awards ceremony.
Other entries in the category have capitalised on celebrity presence including Kate Moss, The Prince of Wales and Miley Cyrus, whereas #studentfarmer has stayed true to its cause with an original and quirky design that involves a piglet in a flat cap.
Emily Cole, editor of #studentfarmer, said: "Although we may appear to be the underdog in this competition, bearing in mind the big names we are up against, we believe that with the farming community's backing, we can give the bigger publications a run for their money.
The award will be given to the front cover which has the most votes. Members of the public can vote once a day, every day until June 6 2014 at www.ppa.co.uk/theppaawards.
Adam Rowden is a writer for Farming Ads view his
Google
+ page.
News