VIDEO: Naked farmer jumps in hay baler... You'll never guess what happens next!
News
•
Monday 18 August 2014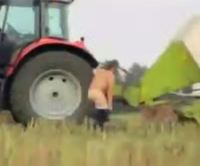 Happy Monday everyone. Is there a better way to start the week than by witnessing a naked farmer jump into a hay baler before sliding out the end perfectly baled?
Well, that is precisely what happens here.
The farmer - who remains nameless - jumps out of his tractor whilst it is in motion towing the baler behind.
He then proceeds to strip off all of his clothes and climbs onto the edge of the baler, before taking the plunge.
That's right, he dives into the hay and is then spat out the back in the middle of an almost perfectly formed bale. Make sure you watch the video below and witness it for yourself!
Just make sure that you don't try this on your farm...
Don't forget to like Farming Ads on Facebook for more updates of farming news and other fun videos.
If you thought that was funny, then why not check out this farmer playing his trombone to his cattle... They bloomin' love it! Click here to watch the video.
News