Value of West Country farmland on the up despite flooding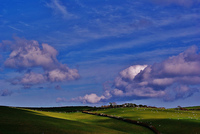 This is Somerset reported yesterday that the value of fertile farming land in the West Country has hit an all time high, even though it has spent much of the last year and a half flooded.
Some of the best pasture in the country is located in the South West and it produces what many people consider to be the best dairy products.
According to land agency Chesterton Humberts, field prices in the West Country last year rose 10.7% rise in value to over £10,000 per acre.
According to the latest market review, arable has led the growth, which reflects the fact that wheat prices are on the up. In fact values in East Anglia are up by 16.2%, the South East has seen a rise of 15.4% and the East Midlands has grown by 14.8%.
These latest rises in the value of agricultural land are the latest in a long-term trend that has seen the value of farmland rise by over 300% since the start of 1995. This huge increase in value is double that which has been enjoyed by house prices and far more than the FTSE100 or ten-year gilt yields.
This is Somerset spoke to Caroline Lawrence, Chesterton Humberts' Cornwall director and she stated that the rises were down to the demand outstripping the supply, which is a trend that she believes will continue further into this year.
Though the bulk of these land purchases are being made by farmers, an increasing number of them are private buyers who are making their first land purchases as an investment.
Ms Lawrence told This is Somerset: "Parcels of well-located versatile accommodation land, which can be easily added to a neighbouring farm, are experiencing record prices.
"An example of this is a parcel of land that we sold outside Taunton, which despite a development uplift clause, sold to a neighbour well in excess of the usual £10,000 per acre. However, more marginal land is generating less interest, with significantly lower prices being achieved."
Many sales are being carried out off the market, with open market sales in 2012 making up just 75 per cent of all deals, a proportion which the report suggests could shrink.
Due to the fact that the population is ever-growing, there is an increased demand for food, which when coupled with the rising commodity prices are likely to force these land prices up even more.
Ms Lawrence continued: "The West Country has undoubtedly been affected by the wet weather but initial signs are that this does not seem to be leading to a withdrawal of farmers from the market.
"Long-term expansion plans, together with low interest rates, still seem to be driving the market forward."
News