Ulster Farmers' Union concerned over decision to end United Dairy Farmers' Auction
News
•
Monday 25 February 2013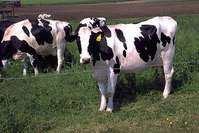 In the wake of the decision last week to end the United Dairy Farmers' Auction, the Ulster Farmers' Union has released a statement stressing its concern.
Their statement acknowledged that the demise of the auction has been likely for some time, however, the UFU believes that the speed and nature of the way it has ended has been far more sudden than anticipated.
Speaking after the announcement was made, Harry Sinclair, the UFU President, said: "We have consistently argued that there was not sufficient transparency in the auction system. A transparent auction would have provided data such as; who participated; quantities they were buying and how much they were paying.
"These are the essential ingredients that will help producers better understand the market that they are producing for and assist in the decision making process on the sale of their milk."
Mr Sinclair continued; "This move by United Dairy Farmers will only create further volatility and uncertainty unless it is addressed immediately and there is a replacement system put on the table.
"At the end of last year, the UFU and Dairy UK NI developed and agreed a Voluntary Code of Practice specific to Northern Ireland which aims to improve trust and transparency between producers and processors.
"In addition, the UFU have been working on a system to price milk and have constructed a pricing mechanism which could be used to establish the value of milk on-farm. We believe that the Voluntary Code of Practice and pricing mechanism could be an ideal vehicle for moving the local milk industry forward and increase transparency in milk pricing."
The UFU have called for meetings with all processors as soon as possible to discuss how the industry will go forward and urge that the Voluntary Code of Practice is implemented as soon as possible.
News