Train hits and kills seven cattle in Wales
News
•
Monday 01 September 2014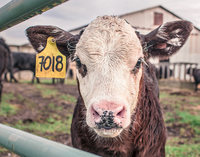 A train in south-west Wales ploughed into a herd of cattle that had strayed onto the railway line, killing seven of the animals.
Three of the cows were killed outright in the collision and a further four had to be destroyed due to the injuries they suffered.
Edward Howells, the owner of the herd, only found out about the incident 12 hours later after being informed by a neighbour.
It was confirmed by Arriva, the company which runs the rail service in question, that the train came into contact with the herd on Monday 25th August at around 11pm.
It was also confirmed that no passengers or the driver were hurt in the incident.
The cattle had wandered onto the track after breaking through an access gate - they had been in a field with 22 others.
Mr Howells was suitable concerned about the incident, however, he did state that it was lucky that more were not killed, as all of the herd except one had escaped from the field.
And, to make things worse for the farmer, he was supposed to have sold the cows a week prior to the accident, but decided to hold onto them for a little bit longer.
The breeds of the cattle that died in the collision have been confirmed as Belgian Blue, Aberdeen Angus and Friesian.
Previously, since the Howell's family first began farming on the land in 1982, they had only lost a ewe and two cattle on the railway line.
After arriving on the scene two other local farmers assisted Howell and a vet arrived at 1am to euthanise the injured cattle.
A spokesman for Network Rail, told Farmers Guardian: "We are taking the incident very seriously and a full and thorough investigation is now under way to ascertain how the animals gained access to the line."
News