Tractor death employer fined £80,000
News
•
Tuesday 25 June 2013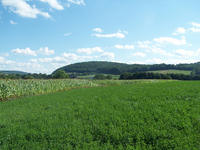 Bristol Crown Court has fined a Somerset farm after one of its workers was killed in a tractor accident in June 2009.
Kim Webb, 26, was driving the tractor with no seat belt, cab, or roll-over bar, on a sloping field, near to North Cadbury, when the accident happened.
Her employer was fined a total of £80,000 and was also ordered to pay £40,000 in costs.
The Health and Safety Executive brought the prosecution to court and heard that the dairy staff regularly used the tractor at the farm.
Ms Webb had been checking the cattle and was driving down a sloping field when the machine rolled over. It rolled twice before righting itself, then it continued to move in circles until it came to rest against a fence.
It is thought that Ms Webb was thrown off the tractor and crushed as it overturned.
It was revealed by the HSE investigation that the tractor was not fitted with a roll-over protection system - which should consist of a roll bar and a seat restraint. And, the brake pedals couldn't be linked together, making the tractor unsuitable for roads. It was also deemed that there had been a lack of risk assessment for the type of work being carried out.
There was also no effective training in place for workers who were using the tractor.
Ms Webb's supervisor had been allowed to show her how to use the machine during an unmonitored session, despite having no formal training qualifications.
The company also breached other relevant regulations by allowing the use of the tractor on the road and in the yard without a roll bar.
The company pleaded guilty to a breach of Section 2(1) of the Health and Safety at Work Act 1974 and was fined £80,000.
"Simple steps could have avoided a needless fatality," said HSE inspector Leo Diez after the hearing.
"Tractors must have some form of roll-over protection for the driver, including a cab or a roll bar and a seat restraint. Farm workers must be given training on how to use equipment properly. It is also vital that machinery is maintained and crucial items like the brake pedals, are working properly.
"Farmers need to supervise their employees and ensure they are aware of the risks associated with their work and how to control the risks."
Ms Webb's father, Terry Webb, spoke to the NFU saying: "Our family has been devastated by losing Kim.
"Inexperienced farm workers, especially young people, must be given proper training and supervision when handling potentially dangerous machinery and not just left to get on with the job. They must also be provided with all the right safety equipment to protect them.
"My daughter paid for this lack of care with her life. I do not want more families to go through the dreadful experience of losing a loved one needlessly."
We are urging farmers to ensure that they follow the rules and regulations surrounding tractors and other farming equipment and machinery. For more information on the safe use of tractors, head over the HSE page on the matter by clicking here.
News