Tonnes of contaminated metal dumped in Shropshire
News
•
Friday 25 October 2013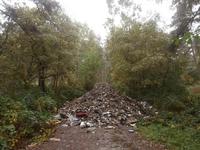 Thirty three tonnes of contaminated metal has been dumped on an estate near Bridgnorth, and the owners of the land have had to pick up the cost.
Nina Ward, resident land agent at the Enville and Stalybridge Estates, has hit out at those individuals who use the countryside as a dumping ground.
Ms Ward made this statement after the huge amount of metal, tainted with oil, was discovered in the woodland.
The clear-up operation at the Enville Estate, which extends to some 6,500 acres on the Staffordshire, Shropshire and Worcestershire borders, cost nearly £7,000.
Speaking to the NFU, Ms Ward said: "Fly-tipping on the estate is a weekly occurrence and ranges from domestic waste, commercial waste such as tyres, asbestos and builders' rubbish, to more recently remains of cannabis plants.
"This recent incident exceeded anything we have previously experienced, with locked gates being smashed and the dumped waste being pre-sorted.
"This was quite a shock discovery and we have been left to pick up the bill."
Farmers and landowners end up having to pick up the cost of fly-tipping, which ends up costing them millions of pounds a year. The government figures, however, do not account for incidents that occur on private land.
The NFU is now calling on members to report these incidents in a bid to strengthen the case for greater action.
Members can contact NFU CallFirst on 0870 8458458 with information.

Picture courtesy of the NFU.
News