The stress caused by Bovine TB - video
News
•
Wednesday 08 May 2013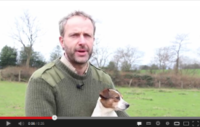 Bovine TB has been an issue for a number of farmers across the country, and Nick, an organic farmer from Derbyshire has had his farm closed by the disease a number of times.
The very first time he was hit by the disease he lost over half his herd - 26 cows to be precise, and now, ten years on, his herd continues to battle against the disease.
He believes that a part of the solution to the outbreak of Bovine TB is a badger cull.
This June the counties of Gloucestershire and Somerset will have two pilot badger culls launched in a bid to attempt to control the disease in the wildlife.
The aim of these initial culls is to prove that they are effective, humane and safe.
Every time a cow in Nick's farm tests positive for TB, the entire farm is closed down and none of the herd are allowed to leave his land.
His farm can then only open for business again after two clear tests which take place after 60 days and 120 days.
Nick's losses have run into the tens-of-thousands of pounds.
The latest cow that was taken from his farm for slaughter was just ten months old and was a heifer. It would have lived on the farm for at least ten years, however, TB has cut its life short.
Nick, whose family have owned the farm since 1968, said that providing British beef for British customers is becoming more and more difficult while bovine TB continues to spread.
"This herd has been a closed herd for nearly 25 years," said Nick.
"These cattle live a natural life out at grass.
"They inter-mingle with badgers and pick up the disease. The disease just keeps cycling in the system."
Since January 1, 2008, a total of 186,664 cattle in Great Britain have been culled because of TB.
NFU Vice President, Adam Quinney, said: "Farmers like Nick base their livelihoods on producing British beef for British consumers.
"But the spread of bovine TB, and the effect it has on farms, is devastating.
"More needs to be done so farmers like Nick can get on with their job of providing food for the nation.
"In order to tackle bovine TB, we must reduce the reservoir of bovine TB in the wildlife.
"As part of a TB control program, the proposed badger cull pilots, due to take place this summer, are targeting two specific hotspot areas in the South West.
"No-one, including farmers, wants to cull badgers. However, it is a regrettable, but absolutely necessary step while TB increases its vice-like grip on our family farms."
News