The Met Office respond to NFU's New Year message
News
•
Friday 01 February 2013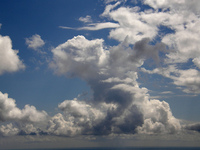 The Met Office has been among the first to respond to the NFU's New Year message, which stated that fresh thinking is required to increase agricultural resilience after the farming industry's weather-beaten 2012.
John Hirst, the chief executive of the Met Office, invited the NFU President Peter Kendall and his key staff to the organisation's world-class facilities in Exeter.
The Met Office is the only weather and climate service in the world. The breadth of its work is astounding, from the delivery of the Public Weather Service and the National Severe Weather Warning Service to the provision of meteorological data for two-thirds of the world's aviation.
Many organisations around the globe use the Met Office's weather and climate models due to their high degree of accuracy. The use of supercomputers and satellites have led to significant improvements to the Met Office's understanding of and capability to predict our weather. Its UK forecast works on a 1.5km reid square.
Today's three-day forecast is as accurate as the one-day forecast was 20 years ago.
The organisation highlighted its collaboration with the Institute of Animal Health at Pirbright on tackling Bluetongue; it was the Met Office's dispersal model that showed how the midge landed on UK shores.
Andy Brown, the head of science at the Met Office, spoke about the work that they have been doing on improving seasonal forecasting, which will be a significant development in meteorological science.
Amateur meteorologists are offered the opportunity to upload their own data on their Weather Observation Website.
Peter Kendall reiterated how 2012 had starkly demonstrated the cost of extreme weather events for farmers and the food supply chain.
Both organisations explored ways of tailoring forecasting to support sustainable intensification.
Climate change will offer new challenges to farmers working to grow food and provide energy in a smarter and more sustainable way and UK agriculture will need the unparalleled resources that the Met Office offers as it prepares to meet such challenges.
News