The badger cull debate continues at Cheltenham Science Festival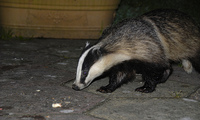 As the potential badger cull draws ever nearer, it is becoming a more and more talked about subject in the major press. The NFU has been reporting on the topic a lot lately and yesterday they revealed that over 80% of an audience at the Cheltenham Science Festival said yesterday that they thought the controlled culling of badgers would prove effective in reducing bovine TB.
Farming and veterinary experts at the event took on the subject shortly after MPs backed the government' plans of bovine TB measures including the pilot culls.
Phil Latham, a dairy farmer, and Roger Blowey, a Gloucester vet, were arguing in favour of the cull. Mr Latham's herd has been greatly affected by the disease and he said that the financial and emotional impact of having his cattle hit by bovine TB had been a "devastating" experience.
He said: "I cannot explain how devastating that is to have to cattle removed due to bovine TB. The disease is quite definitely out of control and spreading rapidly in the UK.
"Badgers are part of the problem and there is no doubt that culling them will reduce it. The case for culling is completely proven."
Ex-farmer Pauline Kidner and vet Elizabeth Mullineaux were taking the counter argument in teh debate, which was chaired by environmentalist Jonathan Porritt.
Ms Mullineaux called the badger cull a "crazy scheme". She also claimed that it could lead to 'perturbation' which could actually lead to a rise in instances of bovine TB in areas that are on the fringes of the cull zones, due to the displacing of the animals.
Pauline Kidner called for a focus on vaccinating cattle and badgers.
What are your thoughts on the badger cull?
News